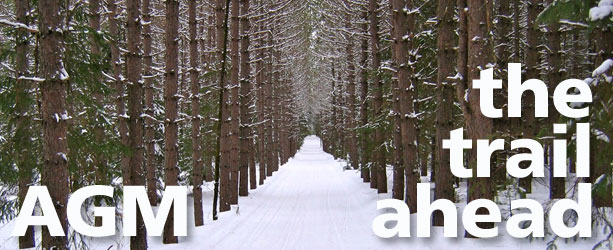 Very important general meeting! We need a huge turnout.
This is a transition year for our club becoming part of District management under the MOTS (More On The Snow) program. And there is a potential for big changes to our club's management with a very important election of officers. We need West Carleton Sledders to voice their opinions and concerns to make sure  the executive and volunteers can continue to make our club great. This year it is possible that major changes will occur to your Board of Directors and Officers.
We need your support at this one annual meeting.
Also, there will be an update on the great success we have had with securing the County Rail Line as a brand new trail. There has been a huge amount of work by several club executives (including all of you who voiced political support) to make this exciting project happen.
Please join us at the West Carleton Snowmobile Trails Association Annual General Meeting – Tuesday September 5th, 7:00pm, at the Kinburn Community Centre.
Board of directors will be nominated and elected by our members at this meeting, and we encourage all current permit holders to join us and participate in continuing to set the course for snowmobiling in West Carleton, and representation of our club within the OFSC. Many great things have been happening for our club, and you can really help out by getting involved!
So, please come out to the AGM and see what is going on with your local club. We are continuing to try to plan more fun and exciting things this year, but we need your help to make them happen! Get to know our dynamic team of volunteers, fellow snowmobilers and hard-working directors. Here is a list of some things we are doing now, along with some new ideas brought forward by current volunteers and board members.
Poker run in support of the Snowsuit Fund
Landowners appreciation dinner
Braap 'n Bash event with live entertainment
Trail side BBQ
Fund raising (selling raffle tickets, trail map advertising)
Family free weekend
Day and night group rides
Immediately following the AGM the newly appointed Board will commence with the election of President, Vice President and other Officers for the 2017-2018 season.
We hope to see you there!