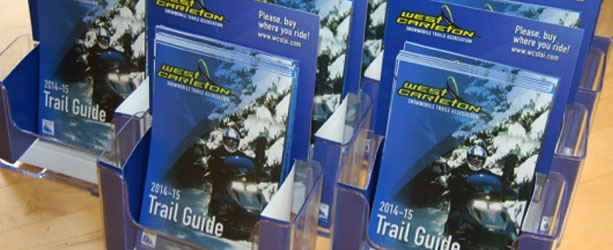 For a very limited time, we have advertising spaces available on the WCSTA Trail Guide.
You can also get your business identified on the iSnowmobile mobile app and the OFSC Interactive Trail Guide as a Point of Interest, or have trailside signs installed near your business for the season. Deadline for advertising is Thursday December 15th, so don't delay!
Single Map Ad:
1 square – $200.00 per square, colour ad (1-7/8 x 2")
($100.00 per additional square to make your ad stand out)
Point of Interest (P.O.I.) Listing on OFSC Interactive Map and iSnowmobile Mobile App:
$75.00 per listing. This is the mobile app that many snowmobilers use to navigate. This is great for restaurants, gas stations, dealerships and motels/hotels.
Trail signs:
$75.00 This includes up to three trails signs that we place to direct snowmobilers to your business. The signs are supplied by the advertisers and approved by the club. With this option you also get to post one ad on our Facebook group per week to promote your business and/or specials
Package:
Trail map ad, POI listing and Trail signs. $300.00
Please email contact@wcstai.com for pricing and more details, or phone Ian Torrey at 613.832.4596.