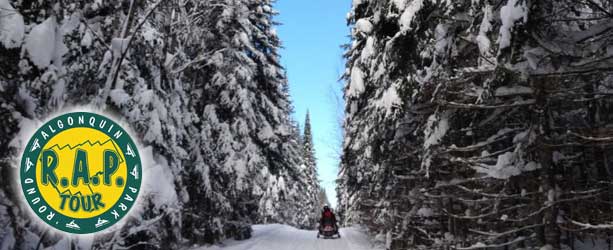 The Club has received lots of requests for coordinated rides, including longer tours. As a result we are in the planning stages for a group-coordinated ride on the premier snowmobile tour in Ontario – The RAP, or Ride Around Algonquin Park tour. It is approximately 690km tour, over 4 days.
Overview
Length
690 km 4 days of riding Approximately 6- 8 hours of riding each day.
Deposit
A $50 deposit non-refundable from each rider is expected prior to departure. Please provide to Scott Hamilton, Ted Kelly or Paul Asmis. Please make sure that you have received confirmation that spaces are available before booking your accommodations!
Dates

– 

02 Feb-05 Feb 2014

The trip has planned over the week to take advantage of lower hotel rates, the fact that all services are open (including repair gas etc), and that there will less traffic on the trails – especially on the West side of the park.
Planning Meeting – Tuesday Sept 17 2013
A planning meeting is scheduled for Tuesday Sept 17, 7 pm at "Love That Barr" in Pakenham.
Reservations
Room reservations are the responsibility of each rider, and detailed information on each booking is provided. Note that Spring Lake and the Bears Den need reservation confirmations by the end of September as they fill up quickly with long-range bookings. It is not too early to make bookings!! If riders know they are interested please start making bookings soon. The accommodations fill up very quickly for that time of the year. Cancellation is typically 7 days notice.
Schedule and Options
Riders can trailer to the departure point at Spectacle lake Lodge on Sunday or snowmobile from the West Carleton area. Spectacle Lake lodge is on the B Trail, west of Barry's Bay, within a day's ride of West Carleton. (Note this will extend trip and reservations for the Thursday return night at the spectacle Lake Lodge are rider's responsibility.) There are excellent club trails around the Spectacle Lake Lodge, including a look out point. Riders arriving early on the Sunday can take advantage of the loops around the lodge. Also riders can elect to stay an extra night at the end of the tour to explore the local loops.
Parking
Spectacle Lake Lodge has ample parking for trailers and vehicles.
Schedule
Sunday
Arrive – Spectacle Lake Lodge
Sunday Riders Briefing – 1900 hrs in bar area.
Monday
Destination is Spring Lake Resort, Dwight Ontario
Distance – approx 160 km
Fuel / Stops – Whitney (everyone fuel – fuel limited after that), Kennisis Lake (100 km)
Stops – TBD – photo op at waterfall near Whitney Ontario
Tuesday
Destination is Collander Bay – Terrance Suites
Distance – approx 150 km
Fuel – Sand Lake – VERIFY
Stops – TBD
Wednesday
Destination is Deep River – Bears Den
Distance – 200km
Fuel – Mattawa (100 km) / Stonecliffe
Stops – Mattawa (only lunch stop)
Thursday
Destination – Spectacle Lake Lodge
Distance – 180 km Fuel Pembroke / Round Lake / Barry's Bay
Stops – TBD
Accommodation Information
1st Night – Sunday Feb 2
Spectacle Lake Lodge
17-B Spectacle lake Road, South Algonquin
K0J 1B0613-756-2324
Rates
The lodge offers a Snowmobile Package (includes accommodation, 3 course dinner and hot breakfast) @ $120.00 per person plus 13% HST and 15% Gratuity. If you do not want the dinner and breakfast it would be regular rate per our website. (4 cottages are booked. They will hold 12 riders – each with a bed. Those wanting to pay regular rate will be accommodated in one or two cabins to facilitate cost breakdown. )
2nd Night Monday Feb 3
Spring Lake Resort
Dwight 2893 Ontario 60, ON
1 877-635-9995
Rates
"A room with two beds, a queen and a twin bed or one bed, a king size bed is $89.00 plus tax based on occupancy of 2 people. We have 4 rooms with king size bed and 10 rooms with a queen and a twin, total of 14 rooms. A suite with 3 queen size beds, you have 2 queen size beds in the bedroom and one queen size bed in the first room along with 4 pcs washroom, etc… is $120.00 per night plus tax. We have 3 suites in total. All our rooms are freshly renovated with brand new mattresses, carpets, etc. have a microwave, a coffee maker, and a compact fridge. They all are lake view and lakefront."
Each person can call and make their own arrangements for the stay either in rooms or suites as they like and providing their own credit card to reserve, just please ask them to say that they are members of West Carleton Snowmobile club.
Note : Book by end of September
3rd Night – Tuesday Feb 4
Terrace Suites
2363 Highway 94 (Callander Bay Drive) Callander (North Bay), ON P0H 1H0
705-752-5552
reservations@terracesuites.com
Rates
Signature suite is $126 per night (we have 8 suites, they have 1King and 1Queen)
Honeymoon Suite is $119 per night (we have 8 suites, They have 1 Queen)
Standard Room is $99 (we have 2 suites, they have 1 Queen)
Family Suite is $130 per night (we have 2 suites, they have 3 Doubles or 3 Queens)
For details on our suite amenities please go to our website
You can block off Rooms and they can call in individually to book their rooms.
A month before the date if there are still unclaimed rooms I will put them back up for sale.
As of right now we do have availability for Feb 4th.
4th Night – Wednesday Feb 5
Bears Den Lounge and Motel Restaurant
33177 17 Hwy, Deep River, ON K0J 1P0
(613) 584-9795
Rates
Single Room Queen Bed – $70 plus tax Double Room –twin beds – $94 plus tax
Need confirmation in Sept of numbers
Book under Paul Asmis – West Carleton Snowmobile Club
Each rider is responsible for reserving his or her own accommodations. Please call the listed accommodations and quote the reservation information provided for each stop.
Additional Details
Food
Dinner and breakfast is available at each accommodation stop (each rider responsible for food). Group will stop on the trail for lunch.
Fuel
The group will stop for fuel approximately halfway through each day. In some areas of the tour around the park fuel stops are limited and are approximately 100km apart. Fuel is available at Spectacle Lake Lodge prior to departure.
Chase Vehicle
Chase vehicle is being organized and a non-refundable deposit will cover the cost of the chase vehicle for each rider. The chase vehicle, which will be a pick up truck with a 20ft trailer, will follow the group. It will proceed to the next nights stop, and can be contacted in case of break down. It will also be able to carry spare fuel, oil, parts, and limited amount of luggage. The fuel for the chase vehicle will be paid for from the non-refundable deposit.
Safety and Group Riding
Depending on the numbers providing the deposit, riders will be put into groups of 4-6 riders. Groups will be assigned on the Sunday evening meeting based on desired speed of travel – each group will stay together. The larger tour group will meet at lunch and at the accommodations at the end of the day.
Communications
Each rider will be asked to provide a cell number. A tour text group will be created so riders can text messages, and communicate with chase vehicle.
Sled maintenance
The group will assist each other but everyone is expected to have the basic maintenance completed on their machines prior to departing on the tour.
Registration
To register for the tour please download and complete the registration form.
Registration is confirmed once a tour coordinator listed below receives the deposit.
Please contact any of the coordinators for details.
Information
Ted Kelly
ted-kelly@sympatico.ca
613-296-5294 Scott Hamilton
Shamilton@delta-gl.com
613-852-7271 Paul Asmis
pasmis@mac.com
cell 613-297-9818