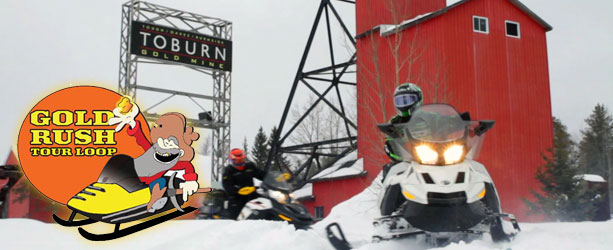 The Club has received requests for coordinated rides, including longer tours. Last year the club successfully planned the RAP tour, a 4-day ride around Algonquin Park.
As a result of the great success of the tour last year, we are in the planning stages for a group-coordinated ride in Northern Ontario – The OFSC Gold Rush Tour. It is approximately 710 km tour, over 4 days.
Background
The tour will depart from New Liskeard Ontario and travel clockwise around the tour loop ending back in New Liskeard. It is approx. a 6-hour drive from West Carleton to the start point.
The tour will follow TOP trails and connectors. The area is well known for its deep snow, and wide low traffic trails.
History of Area
Despite it's catchy easy to brand name, the Gold Rush Tour moniker was originally chosen because the area in which the route is situated has a rich (literally and figuratively) history in gold mining. Gold was first discovered in the area in 1911. Eight years later a large forest fire exposed much of the bedrock – a blessing to prospectors who discovered more sediment in the area. In 1933 an article in the New York Times (referring to the White Rock mine at Violet Lake and mines at Three Ducks Lake and Beaver Lake) claimed that this was the biggest gold rush since the 49ers of California and the Klondike rush of 1896.
The largest gold mine in the Shining Tree area, The Ronda Mine near Michiwakenda Lake, was opened in 1939 with $6,000,000 invested in it – a huge sum for that period of time. By that time, with the discovery of gold and several lumber camps operating nearby, the population of the Shining Tree area swelled to a population of 900.
Deposit
A $75 deposit non-refundable from each rider is required prior to the cut off date.  Deposit are required by the planning meeting Oct 14,2015. Please provide to Scott Hamilton, Ted Kelly or Paul Asmis. (Note costs have increased over last year.)
Length: 710 km
4 days of riding with approx. 6-8 hours per day. The first and last day ride will be shorter, with the 2nd and 3rd day having extended riding distance
Dates: Mar 1-5 2015
The trip has planned over the week to take advantage of lower hotel rates, the fact that all services are open (including repair gas etc.), and that there will less traffic on the trails.
Planning Meeting
A planning meeting is scheduled for Tuesday Oct 14, 7 pm at "Luv the Barr" in Pakenham.
Reservations
Room reservations are the responsibility of each rider, and detailed information for each booking is provided. It is not too early to make bookings!!! If riders know they are interested please start making bookings soon. The accommodations fill up very quickly for that time of the year. Cancellation dates are listed.
If you cancel your reservation you are responsible for all fees. If any fees are not paid are and must be covered by the group on tour you will be required to pay when the group returns.
Note all bookings under group – West Carleton Snowmobile Club
Schedule and Options
Riders can trailer to the start point at the Holiday Inn Express in New Liskeard.
There is plenty of parking for trailers.
There are excellent trails around New Liskeard. Riders arriving early on the Sunday can take advantage of the loops around the town. Also riders can elect to stay an extra night at the end of the tour to explore the local loops.
Schedule
Sunday
Arrive- Holiday Inn Express, New Liskeard
Riders Briefing – 1900 hrs. In bar area.
Monday
Destination is Long Point Lodge, Gowganda, Ontario
Distance approx. 156 km
Fuel / Stops –Elk Lake
Tuesday
Destination is Timmins, Ontario, Microtel Inn and Suites
Distance approx. 250 km
Fuel – Mattagami NOTE REPORTED CASH ONLY
Stops – Post 392- CASH ONLY
Wednesday
Destination is Kirkland Lake, Comfort Inn
Distance -200km
Fuel
Stops
Thursday
Destination – New Liskeard – Holiday Inn Express
Distance 100 km
Fuel
Stops TBD
Accommodation Information
1st Night Sunday Mar 1
Holiday Inn Express New Liskeard
998029 Ontario 11, New Liskeard, ON, P0J 1P0
705-647-8282
Cancelation – 6 weeks prior
Rates: $155
Parking: Truck and trailers included
Food: Husky Truck stop in Walking Distance/ breakfast included in room
Fuel: Close by
Stores: Wal-Mart within short distance
Pool and hot tub.
Meeting room booked for pre departure briefing
2nd Night Monday Mar 2
Long Point Lodge
Box 207, Elk Lake, Ontario, P0J 1G0
705-624-2419
http://www.duenorth.net/longpointlodge/winter.html
Cancellation – 4 weeks prior
Rates: $80 per person per day includes room, breakfast, and pack lunch, dinner.
Food: Onsite – part of meal plan
Fuel: Onsite
Sauna
3rd Night Tuesday Mar 3
Microtel Inn and Suites Timmins, Ont
1960 Riverside Drive, Timmins, Ont
P4R 0A2
705-264-1477
Cancelation: 24 hrs.
Rates: $130.00
Food: Order pizza in a meeting room. Meeting room part of group booking. Breakfast included
Fuel: Close by
Stores: Canadian tire and Wal-Mart close by
Pool and hot tub
4th Night Wednesday Mar 4
Kirkland Lake Inn and Suites
50 Government Road East
Kirkland Lake, ON, P2N 1A5
1 800-461-4971
Cancellation – 24 hrs.
Rates: Group booking – $125 per night
Food: Restaurant in hotel open until 10 pm/ 6-10 am breakfast at hotel
Gas: on trail close by just down the street
Stores: Tim Horton's next door, beer store, pharmacy, KFC across street
Meeting room booked for evening briefing
No hot tub or pool
Food
Dinner and breakfast is available at each accommodation stop (each rider responsible for food). Group will stop on the trail for lunch. See details above
Fuel
The group will stop for fuel approximately halfway through each day.  In some areas of the tour fuel stops are limited and are approximately 150km apart. Fuel is available prior to departure.
Chase Vehicle
Chase vehicle is being organized and a non-refundable deposit will cover the cost of the chase vehicle for each rider. The chase vehicle, which will be a pick up truck with a 20ft trailer, will follow the group. It will proceed to the next nights stop, and can be contacted in case of break down. It will also be able to carry spare fuel, oil, parts, and limited amount of luggage. The fuel for the chase vehicle will be paid for from the non-refundable deposit.
As far North as this tour is, the loop parallels / follows Highway 560, 144, and 11. This will allow for access to the chase vehicle in case of an emergency breakdown.
Safety and Group Riding
Depending on the numbers providing the deposit, riders will be put into groups of 4-6 riders. Groups will be assigned on the Sunday evening meeting based on desired speed of travel – each group will stay together. The larger tour group will meet at lunch and at the accommodations at the end of the day.
A safety contact list will be provided to each rider in the group.
Each rider is responsible for riding safely under control, and within his or her limits. Note the group will wait at all critical trail junctions.
Risk
Each rider assumes responsibility for and understands the risks inherent in snowmobiling in a remote wilderness setting such as involved in this trip.  Each rider must understand that regardless of the chase vehicle, the tour will be in remote locations and emergency assistance will be a significant distance away. Each rider must be fit, and prepared with proper equipment for the extreme winter weather conditions expected.
Emergency Numbers:
OPP emergency: 1-888-310-1122
Temiskaming Hospital 421 Shepherdson Road, New Liskeard, P0J 1P0, 1 -705-647-8121
Englehart and District Hospital 1-705-544-2301 – 61-5th Street Englehart, ONT
Mattagami First Nation Medical 1-705-894-2072
Gogama Nursing Station 1-705-894-2005
Gogama Fire 1-88-571-3473
Gogama Ambulance 1-877-351-2345
Timmins Hospital 700 Ross Ave E, Timmins, Ont 1-705-2131
Timmins Ambulance Service – 911
Kirkland Lake Hospital 145 Govt Rd E, Kirkland Lake ON, P2N3R2, 705-567-4357
Communications
Each rider will be asked to provide a cell number. A tour text group will be created so riders can text messages, and communicate with chase vehicle.
Selection for Participation
The tour group is initially planned for 12 riders, plus chase truck driver. (Depending on demand numbers may be adjusted.) The tour will be limited to members of the West Carleton Snowmobile Club. As demand is expected to exceed capacity selection for participation will be based on order the deposits are received, club participation, and volunteer participation. The tour organizers reserve the right to select riders based on the requirements of the tour. If a deposit is not received by the planning meeting in Oct. the participants name will be removed from the confirmed group.
Sled maintenance and Insurance
The group will assist each other but everyone is expected to have the basic maintenance completed on their machines prior to departing on the tour. In addition each rider is responsible to carry all required insurance, registration, license, and valid OFSC permit.
Advertising
On club web page, and face book page
Registration
To register for the tour please complete the registration form and submit your deposit to one of the tour coordinators. Deposits may be made via mail, electronic transfer or in person. 
A tour coordinator will confirm registration before Oct 14, 2015.
Please contact any of the coordinators for details.
Information
Ted Kelly
ted-kelly@sympatIco.ca
613-296-5294
Scott Hamilton
Shamilton@delta-gl.com
613-852-7271
Paul Asmis
pasmis@mac.com
Cell 613-297-9818