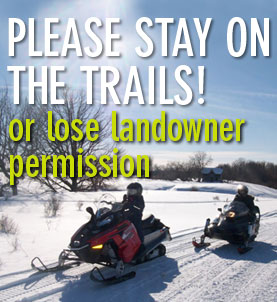 We have been receiving complaints from landowners of snowmobiles leaving the trails and traveling into fields and private property. This activity damages fragile crops under the snow cover, endangers family members, children and pets, as well as you and your sled. Trails are marked for a reason, and that is because it is the place where our generous landowners have given us permission to ride.
Leaving the trail to explore, go boondocking or shorten a corner is trespassing and will cause our permission to be revoked. Quite often a suitable reroute will not be available, resulting in trails closed altogether, or at best, more road running. Finally, every time the Club receives a complaint, it uses up valuable volunteer time as we work with landowners to try to make amends, increase signage and repair damage.
Please stay on the trails, and if you see other riders off trail help us to share this message!
Thank you.