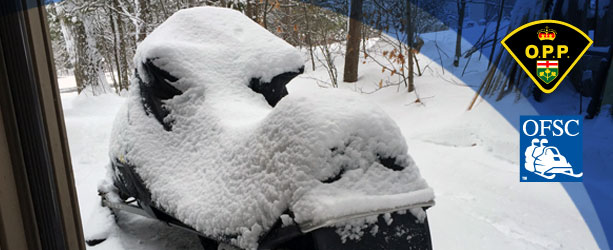 Groomers have started pre-season packing of West Carleton trails, and this cold weather is really helping to firm up our waterways and swamps. We need a little more snow, and things are starting to look good for a start to a great season very soon but TRAILS ARE STILL NOT OPEN.
There are various reasons, whether it be our landowners not able to open gates (yes livestock can still be out in the fields at this time of year). And there is still not enough dense snow in most areas which, as you may be hearing in the news is a serious safety issue. Club volunteers want the trails open as much as anyone, as we are all sledders too, but this takes a combination of the right snow/safety conditions and permission to open gates on our land owners properties. Trail patrol is now patrolling trails and with new legislation in place, trespassers can now be fined up to $10,000 for trespassing and riding on unopened trails. This is serious stuff.
Please, everyone remember that trying to get that jump on the season before trails are open risks it for all of us. We have lost some valuable links on local trails yet again this season and have had to significantly increase road running because of the few sledders who think that just one run on an opened trail does not matter. It does. Just one sled wandering where it shouldn't be can result in a trail becoming a permanent dead end – and we can't blame our landowners for trying to protect their crops, property and livelihood.
On a lighter note, West Carleton has some exciting new trails being opened this season, like rail bridges in Pakenham and Arnprior on the W311 and the A trail. It has taken thousands of hours and working with the goodwill of the public, towns and municipalities to get us, the sledders, access to these. These routes are being opened on a trial basis and access to these areas can still be revoked by riding on them now, before official opening.
It's going to be a great year if people can please, PLEASE keep the sleds parked until they show "Available" on the Interactive Trail Guide. And if you know that person that still insists on trespassing on unopened trails – put some pressure on them – they are messing with all that money you have invested riding this year.